Providing fast and friendly automotive service
Oakville Auto Centre is a family owned Automotive Service facility centrally located in Oakville at the Dorval Crossings East Plaza.
Our team of highly skilled automotive mechanics and technicians are committed to providing premium affordable automotive service to Oakville, Burlington, and Mississauga residents.
You benefit from our commitment to automotive service based on core values of honesty, essential only, and commitment to high-quality automotive service work.
Since 2006, owners and brothers Shadi and Jamal Farhat, have been catering to thousands of clients and look forward to helping you with all your automotive service needs.
Give us a try and you will be hooked on our valuable automotive service.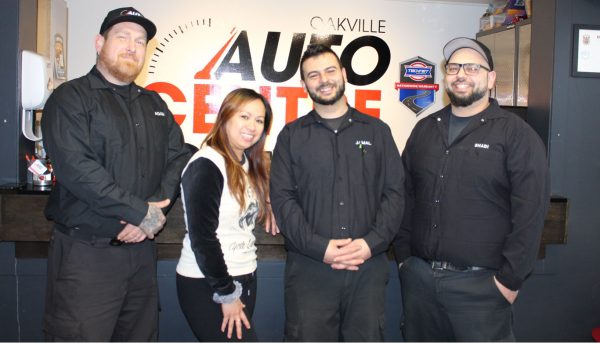 Oakville Auto Centre Commitments to You:
Reliable automotive services

Honest, fair, and affordable pricing

Automotive service with a smile
Wheel Alignment Service
Correcting your car's wheel alignment extends vehicle maintenance
When your car's alignment is off, it tends to pull to one side of the road and can lead to additional costly repairs for brakes, tires, and suspension.
Oakville Auto Centre's licensed technicians and mechanics will ensure your car's wheel alignment is correct with state of the art wheel alignment equipment.
The life blood of your automobile
Oil is to your car what blood is to you – vital for operating optimally.
Oakville Auto Centre is your one-stop shop for all your oil change needs, whether it is regular oil changes or synthetic oil changes, our technicians and mechanics are trained in all automotive brand oil requirements and will discuss your options with you.
Vehicle Inspections
Ensuring your car is road safe
"Oakville auto centre is the best place where you can bring your vehicle without hesitation.

Honest, caring, nice, and professional.

They tuned up my Ford Focus and gave me extraordinary customer service.

My old focus runs like new … thank you very much again.

See you for my next oil change!!!!"
"My family has been coming here since it opened.

If you want an honest shop that will not sell you things you do not need then this is the place.

Every mechanic and employee are courteous, knowledgeable, and committed to quality.

I am 55 yrs old and have dealt with numerous dealerships and repair shops over the years.

None of my previously used shops come close to what you will get here.

Honesty, integrity and quality are what you will find.

You have won my business for life. Thank you."
"This is by far the best shop in Halton region.

Shadi and his brother manage a tight team of mechanics that really know what they are doing.

They are really efficient and effective at diagnosing problems.

They are also very competitive when it comes to completing the repairs.

Overall I would recommend this garage to anyone for any type of vehicle.

Keep up the good work guys."